Intentional Faith Development (Adult Education)
Click

here

for our Fall 2017 Intentional Faith Development Flyer.
Sunday morning at 10:00 am
AGAPE – Room 3

Agape Sunday School Class which meets Sunday morning in Room 3 will soon finish "The Thirteen Apostles". Next, we are planning on reading "Talking With God" by Adam Weber. We are also going to occasionally read and discuss one of Terry Pluto's essays from "Everyday Faith".
Facilitator: Charlene Rawson: Contact: MZ Office (330)665-9817
SEEKERS – Room 4
We have studied Old Testament prayers and are now nearing the end of our Study on New Testament prayers. We will then put this to practical use by spending time in actual prayer in our class. Our next study will be some New Testament book study. We do "in depth" study of the scriptures. We "dig deep". We welcome new people as we are a caring, praying close group of people. Welcome!
Facilitator: Wanda Devine: Contact: MZ Office (330)665-9817
HALF TRUTH – Rooms 5 & 7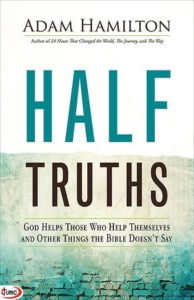 Half Truths by Adam Hamilton
True or false:
1. Everything happens for a reason.
2. God helps those who help themselves.
3. God won't give you more than you can handle.
4. God said it, I believe it, hat settles it.
5. Love the sinner, hate the sin.
All true? Not so fast. We've heard these phrases all of our lives, but in Adam Hamilton's new book, Half Truths, you'll learn that although they capture some element of truth, when compared to the wisdom found in Scripture, they're really just popular sayings. Join us in Rooms 5&7 as we explore this DVD study together each Sunday at 10:00 am. Please contact Michelle Davis at (330)668-6044 with any questions.
THE PRODIGAL GOD (Beginning once Half Truths study ends) – Rooms 5 & 7
In this compelling six-session DVD study, pastor and best-selling author Tim Keller presents a new way of looking at this well-known parable. Where most teaching focuses just on the younger "wayward" son, Dr. Keller challenges us to
consider both the role of the elder brother and the father as well. Even Jesus began his parable with "a man had two sons" so, you see, the story is not just about the younger son who leaves home and squanders his inheritance before
eventually returning home. The story is as much about the elder brother as the younger, and as much about the father as the sons. To this end, Dr. Keller contends that the story might better be called "Two Lost Sons." In six sessions your group will explore the prodigal who spent until he had nothing left, the self-righteous and offended elder son, and the father who forgave with reckless abandon. And in it all, your group will learn the love of the Heavenly Father who lavishes his love upon his children and welcomes us back into his loving arms. Session titles include the following: The Parable, The People Around Jesus, The Two Lost Sons, The Elder Brother, The True Elder Brother, The Feast of the Father.
FAITHLINK – Room 6
Connecting Life and Faith. FaithLink is a study for individuals who want to apply their United Methodist beliefs to current faith issues and world events. This essential guide not only motivates Christians to consider their personal views on important contemporary issues, it also encourages them to act on their beliefs.
Contact: MZ Office (330)665-9817
JAVA & JESUS – Rooms 8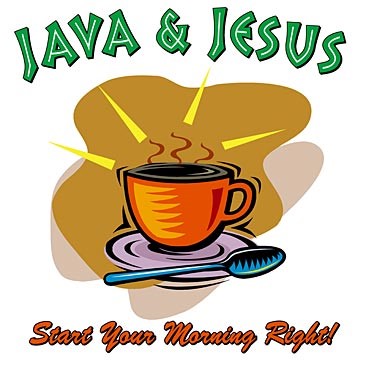 Come for a time of fellowship and discussion of the Sunday scripture. We will discuss and sermon. We will discuss the application of both to our everyday lives. No preparation needed. Come any Sunday you are available.
Facilitation Shared: Contact MZ Office (330)665-9817
SATURDAY NIGHTER'S – Room 145
The Fall Lessons are on the "Covenant with God". We will be studying Genesis, Exodus I & II, Samuel, Hebrews, and 1 Corinthians. Come and join our spirited discussion.
Contact: Dr. Walt Chisholm – (330)604-8679
WEEKDAY OPPORTUNITIES
TUESDAY
Tuesday's with Bill – 9:30 am – Conference Room
Come and join us on Tuesday mornings for our weekly bible study. During Lent, we will explore each of our weekly spiritual disciplines in conjunction with the weekly scripture. If you are not a bible expert, fear not. If you hope to be a bible expert after being a part of the class, you may not be! But if you are looking to see how the Scripture teaches us to live more fully into the life that God has given us, then please come! We meet at 9:30 am in the Conference Room!
WEDNESDAY
Wednesday Womens' Bible Study begin studying Steadfast Love by Lauren Chandler on Oct 18. Psalm 107 is a call to worship. It reminds us that each season of life is an opportunity to reveal the anchor of our souls. Join us in LL Room 6 at 9:30 am.